Shabby Chic Paint Effects on Wooden Furniture
Posted on
Have you ever wanted to give an old piece of furniture an uplift, but thought it was too much work & effort, or just didn't know where to start. Well, it's really so easy now with fab new products on the market. So honestly don't through that dated bit of furniture away... give it a new lease of life! Read on for simple instructions on how to....
My Mum, sister & I attended a shabby chic furniture painting workshop in the ever so quirky Brighton last year. Whilst I relished the opportunity to spend some quality time with my Mum & sister & am always keen to do something crafty, I was a little bit sceptical about paying for a class to paint furniture (which I have done many times before), but I did learn a few useful things which I am about to share with you :)
We had to take out own pieces of furniture to the class. Here's photos of what the three of us brought with us.
An rather plain good quality solid wood chair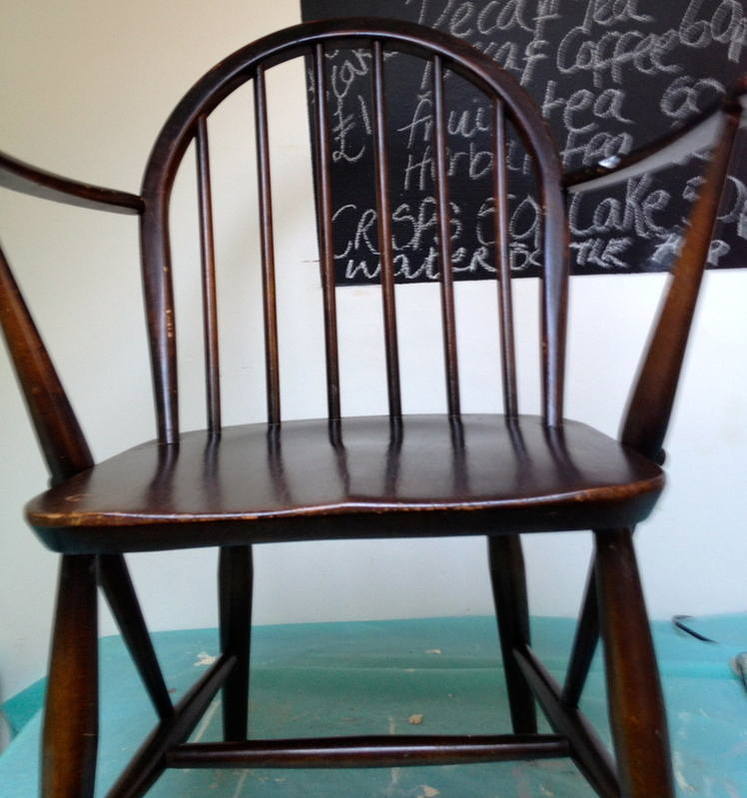 A dated but cute solid wood milking stool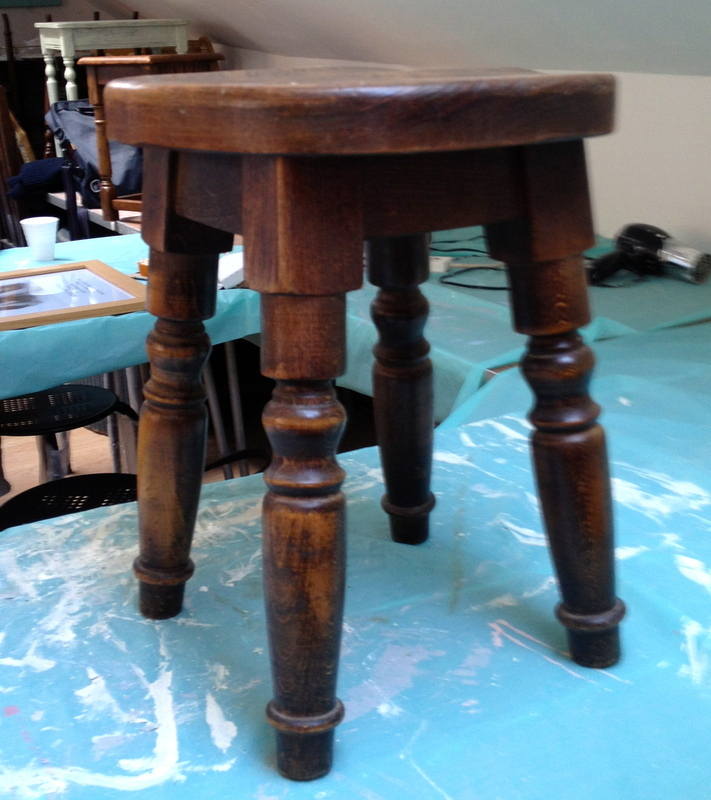 A dated but rather ornate detailed solid wooden chair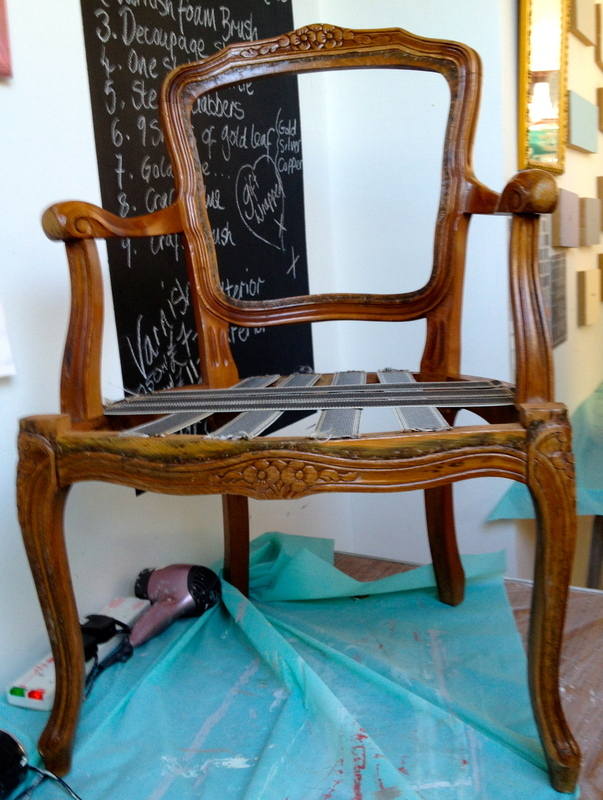 Now for those of you who hate sanding, here's the good bit..... well the better bit anyway. There is minimal sanding required!!! All you need is a fine sandpaper and it would be helpful for you if you have a sandpaper block, though this is not essential.
Now please don't think you need to remove the entire top surface of the wood, because you don't. Your aim of sanding here is to remove any old lumps and bumps and any old dirt & grime. All you want is a nice smooth surface to apply your paint. At this point it's worth noting that when using this method it is absolutely fine to paint over old paint or polish and there is no need for it all to be stripped back!
So get your sandpaper and block if you have one and give the surface of your piece of furniture a nice smooth over. This shouldn't take too long (unless your piece of furniture is huge of course).
Now wipe over your piece of furniture and make sure you clean off any bits of dust... now it's ready to paint!
Now for your paint. You need a chalk based paint. This type of paint is water based, is easy to use, creates minimal mess and is what allows you to get away without priming your wood or metal. The brand we used is Autentico, though there are a number of others on the market. The paint comes in a huge variety of colours, so the world is your oyster here.
At our workshop the colours available were limited, I tend to like bright colourful tones so was slightly disappointed, but whether it's a muted or bright colour you go for the technique is the same.
You need a dry paintbrush and your tin of paint. Dab your brush in your pot, but only add a tiny tiny bit of paint. When it comes to the painting less is more. Start painting your piece of furniture using very thin layers and only apply more paint to your brush when nothing else is coming off. The painting is as simple as this. paint your entire piece of furniture using one very thin coat. With this type of water based paint you will probably find that by the time you have painted the whole piece, that it is dry enough for a second coat (you're probably aware that this is not possible with oil based paints such as gloss).
Painting in very thin coats has a number of benefits, you don't get unsightly drips, the item is ready very quickly for it's second coat, but it also gives you the opportunity to decide as you go what type of pain effect you are looking for. Some people may prefer a solid colour and if this is you, you will want to apply a number of thin coats to your piece until it looks as you want it to. Others of you may prefer the more shabby chic look with previous paint effects or the grain of the wood showing through. This is totally your choice and you can decide as you go.
When you have finished painting, it's now your choice whether you decide you would like to give your piece of furniture even more of a shabby chic look. If you do you and the paint is dry, grab your sand paper again and select random areas to remove a little paint. To get an authentic wear and tear look, try to sand places on the furniture which would naturally wear, such as places on the arms of a chair. Also try not to make the sections you sand to uniform, for example it would probably be better to sand an odd number of patches, rather than an even number on any section of the furniture. The pictures of our finished items may help you understand what I mean.
Now if you're finished sanding there's just one final task for you... waxing.
This is probably the easiest part. Autentico sell wax for you to use and comes in a few different shades to achieve your desired finish. All you need to do is grab a cloth and gently wax you piece of furniture. Cover the entire painted area with the wax and the job is done.
No you can stand back and admire your results!
See the pics below for our finished pieces, completed in just a couple of hours.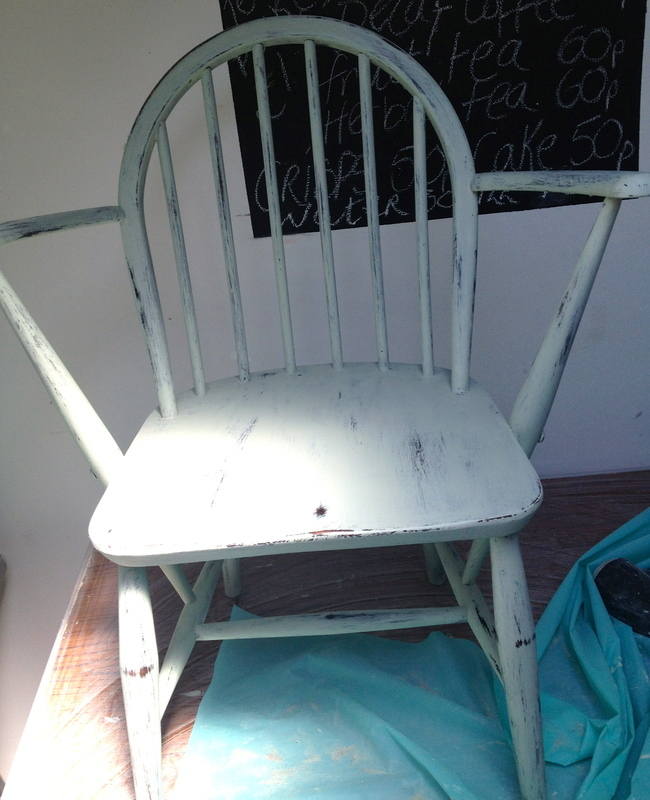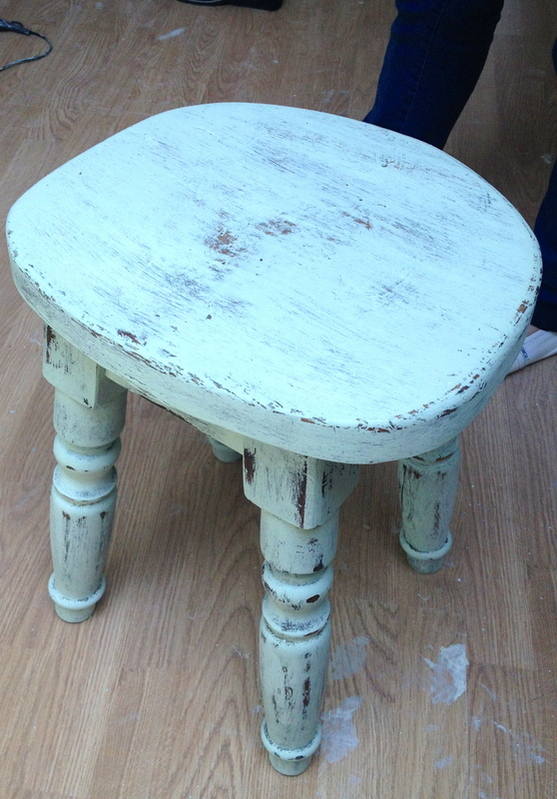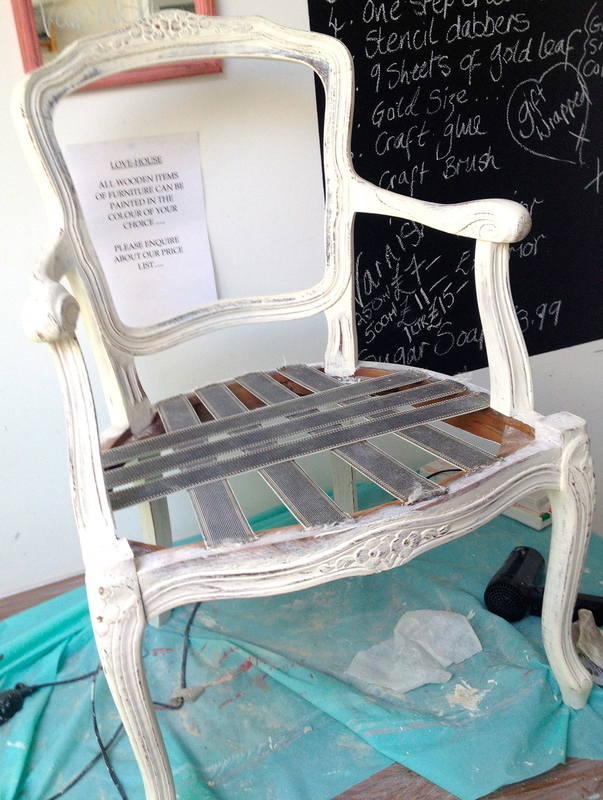 But wait, look at the chair once Mum upholstered it at home using Cath Kidston Cut Roses fabric..... fabulous!!!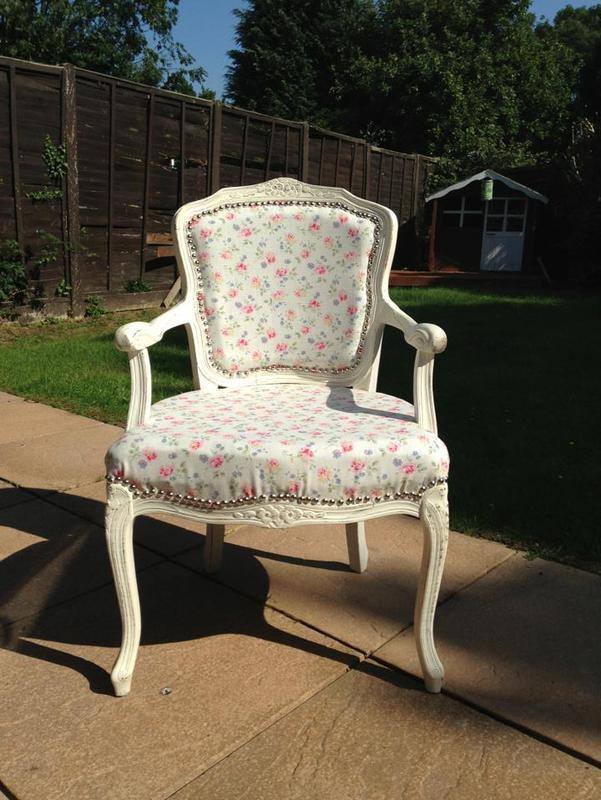 If you have any doubt whether you can do this too, then please don't!!! Feel free to post any messages or comments and i'll get back to you and help in any way I can.
Happy painting :)